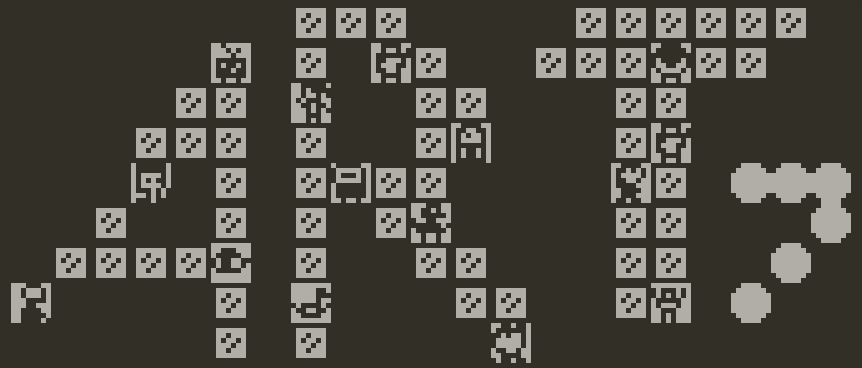 ART7 1-bit Gallery for Playdate
ART7 is a 1-bit Art Gallery for the Playdate Handheld Console. You can download the game and run on Playdate Hardware or the Playdate Simulator included in the Playdate Developer SDK !

I've been head down on this for.. awhile and am so happy to get this out for folks to see. It's an art gallery for your pocket! I really wanted it to have its own sense of place and to build some community around expression. Also, I got a little weird with it. It'll be interesting to see who finds what.
In ART7 there are pieces from the Indie Playdate Dev community, from the Gameboy Camera community, my own work and other artists at large. It's built in Pulp - the web game editor provided by Panic - and I really can't say enough about its accessibility and versatility. Folks are doing amazing things on the platform, and I'm happy to be among them.
There's a little more game in here than a lot of folks might expect actually. Not the Most game that could have been, but there are definitely some things to be found and discovered. It has been so hard deciding what to show and what not, through this whole process, since any asset could be considered a spoiler. So for everyone that downloaded or bought the demo ahead of time and have been wondering what the hell this thing is.. Thank you for bearing with me. Please enjoy your time with ART7 and look forward to future shows!
---
CW: I don't think any of this would be considered NSFW, but there are a few pieces that are Suggestive? It's an Art Gallery, so just a heads up.
--
While submissions have closed for this Show, we are still open to pieces for the next Show/expansion. Please reach out, if you would like to be included. @ledbetter in the Playdate Squad Discord
More info on the Forum & at LDBR.art
Released on 7/7/2022 at 777beats

***This project is inspired by a similar gallery out of the Gameboy Camera Community from Cat Graffam (@catgraffam) / Twitter

Please don't forget to RATE! I would love to hear your impressions in the rating or in the comments! Here are a few kind words, I've received so far:
And here is a quick How To Sideload video!
Purchase
In order to download this game you must purchase it at or above the minimum price of $7 USD. You will get access to the following files:
ART7 1-bit Gallery.pdx.zip
536 kB
Download demo